2003 Chris Craft 308 Express Cruiser
THIS IS A NO RESERVE AUCTION BEING SOLD TO THE HIGHEST BIDDER
The reason we are selling this on a NO RESERVE auction is because we pump out boat's season round here in SWFL. Please realize we own 90-95% of our inventory, buying High Quality Pre-Owned Trades from a large dealer network that spans from New Jersey across to Texas into the Carolina's and of course down to the Boat Capital of the world... Florida. To help our dealers during demanding times we run NO RESERVE Auctions and have had great success. Sometimes we do super, and others we shake our heads at how low the bidding was 10-20k off in some cases. Allot of clients ask me about the deposit & inspection... So I would like to advise all bidders that the final bid is subject to the said condition of the eBay listing, and the 500.00 deposit is fully refundable due to the outcome of that survey or customer inspection. We ask that you move promptly with us so we can gain our capital back and buy more of these beautiful High Quality Pre-Owned Trades.

If needed due to flight delay, over booked surveyors, or issues outside of the control of normality we do extened grace but again ask that contact is made within 24 hours, a deposit within 48 hours, and arrangements for the vessel getting handled promptly.
We believe in using many large pictures to show you what you are bidding on, so please be patient while they load, it will be well worth the wait!
Please note: All deals made early must still go through E-bay for our safety and yours!!
IMPORTANT PLEASE NOTE.......We welcome all eBayers to bid, although if you are new to eBay and have a 0 or negative rating, you MUST Call us first at 239-872-6270 BEFORE Bidding on this vessel so that we may verify your ability and integrity to fulfill your obligation on the purchase of this boat, if you bid before contacting us your bid will be canceled and you will be blocked from further bidding, we also reserve the right to end this auction at any time for any reason as it is also advertised locally.
All used boats are sold AS IS
,
with the exception of late model boats that still have a factory warranty. If we sell a late model used boat with a warranty, we will transfer all warranties to the winner of the auction. Our company checks all engines or out~board motor's for compression and run ability. If anything is needed when a boat comes in, we do it. We make sure all boats are in good running order. Some may need a little TLC and some may be in A-1 Pristine condition! If they have power we make sure the power is ready to go! If it needs a tune up, we do it. If it needs a belt, we put it on.
Please read carefully about each individual used boat. We cannot be he
ld
accountable for every light bulb, switch, or pump that may be good or bad on all used boats.
Also, please note that any trailers that come with the boats are also sold AS IS. If a trailer needs tires, hubs, lights or anything else you will need to do the necessary repairs to make the trailer road worthy. On a good note most trailers are in over~all good condition. IF THIS IS A NO RESERVE AUCTION WE DO NOT DO ANYTHING BUT SELL THE BOAT IN THE SAID CONDITION OF THE EBAY LISTING. PLEASE LOOK OVER EACH BOAT TO SEE WHAT CATEGORY IT FALLS INTO.
ALL BOAT SALES WILL INCLUDE A $395 ADMININSTRATIVE FEE THAT WILL BE ADDED TO EACH BILL OF SALE. THIS FEE COVERS TITLE PAPERWORK AND OVERHEAD EXPENSES. IF YOU ARE BIDDING PLEASE REMEMBER THIS FEE WILL BE ADDED TO YOUR FINAL PURCHASE PRICE OF THE VESSEL. NO OTHER HIDDEN FEES WILL BE APPLIED EXCEPT SALES TAX TO FLORIDA STATE RESIDENTS.
A note to all winning bidders!! Please know that all boats won on the day of auction have 30 days of free gated OUTSIDE storage in a locked and facilitaed area with video surveillance. If you need to or would like to store the boat here after the first month, each additional month will be $250.00 dollars made payable to the Backwater Marine. Any boat that is over 30ft. Long will pay $400.00 per month due to limited space on large vessels plus $15 per ft for blocking and unblocking. If the boat you are bidding on is 35ft. or larger you may have a wet slip at 15.00 per foot plus electric. On average a wet slip at the beautiful marina at Cape Harbour is around 500.00 to 600.00 per month if needed.
We have a full service marina that offers everything from.......
* BOAT CANVAS and UPHOLSTERY to....
* FULL COMPUTER DIAGNOSTIC and ENGINE REPAIR....
* VESSEL SHRINK WRAPPING....
* GEL-COAT and FIBERGLASS REPAIR....
* WED SAND and BOAT DETAILING....
* CUSTOM T-TOP'S BIMINI'S and HARD TOPS....
* NEW and USED TRAILER SALES....
* BOAT GRAPHICS and CUSTOMIZED LETTERING....
* CROSS COUNTRY SHIPPING & EXPORTING
* AND MUCH MUCH MORE.....
PLEASE ASK US ABOUT ANY SERVICE YOU MAY NEED OR WANT AFTER THE PURCHASE OF YOUR BOAT!!!!
VESSEL FINANCING PLEASE CALL.. JUNIOR BATES at..
INTERCOASTAL FINANCE GROUP-(772)-559-1562
WE ARE LOCATED AT THE BELOW ADDRESS BY APPOINTMENT ONLY!! YOU MUST CALL FIRST BEFORE COMING TO VIEW ANY OF OUR BOATS, WHICH ARE KEPT IN A LOCKED AND FACILITATED GATE ON THE PREMISES.
Backwater Marine & Yacht Brokerage Inc.
18931 State Rd. 31
North Fort Myers, Fl. 33917
Call Micky Franklin Jr @ (239)-872-6270 or Kyle J. Davis @ (239)-789-8777
You are bidding on a 2003 Chris Craft 308 Express Cruiser powered by twin Volvo Penta 5.0 GXi engines with 500 hours of use. This poor boat has been sitting in a storage yard for the past 3 years in the sun withering away.. NOW BEING LIQUIDATED ON A NO RESERVE AUCTION! The motors are strong but need major overhauls from new fuel cells, complete fuel flush, fuel injector cleaning & a B-Service. Most likely risers & manny's also, new belts hoses & check pully's.. Outdrives are in good tact, shift smooth & properly but look for possible shift cable replacement do to non usage. No generator but she does have A/C & reverse heat, with a nice ugraded later model Garmin Chart-plotter, VHF radio is there but is no good. Cockpit carpet needs replacing, and cockpit interior is shot as well from sitting with no maintenance. The hull is SOLID of course she is still a Chris Craft, but the gel coat is shot & will require new paint or gel-coating. This auction will start at 1,500.00 and GO TO THE HIGHEST BIDDER!!
PLEASE WATCH THE VIDEO WE GO THE STARBOARD ENGINE RUNNING FOR A FEW SECONDS, THE PORT TURNS OVER BUT NEEDS A FUEL CELL.
PLEASE SET YOUR YOUTUBE SETTINGS TO 720p H.D. FOR HIGH QUALITY VIDEO of THIS BOAT !!!
See my other listings
for more great items!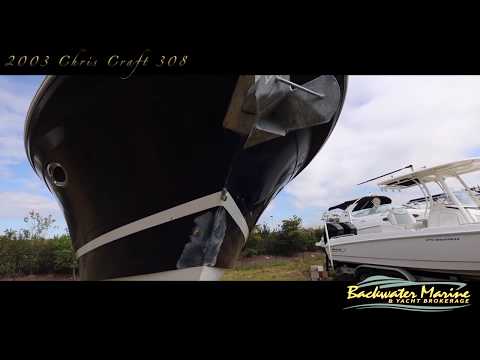 2003 Chris Craft 308 - YouTube
Video will open in a new window
Using the eBay App? Paste link into a browser window:
ItemSpecifics
Beam (feet)
10.6
Deposit amount
500.0
Deposit type
1
Engine Make
Volvo Engine
Engine Model
5.0 GXi
Engine Type
Twin Inboard/Outboard
For Sale By
Dealer
Fuel Capacity
101 - 150 Gallons
Hull Material
Fiberglass
Length (feet)
33
Make
Chris Craft
Model
308 Express Cruiser
Primary Fuel Type
Gas
Trailer
Not Included
Type
Cruiser
Year
2003
2003 Chris Craft 308 EXPRESS CRUISER formula SEA RAY larson NO RESERVE high BID
Product Code:
Availability: In Stock